<!- mfunc feat_school ->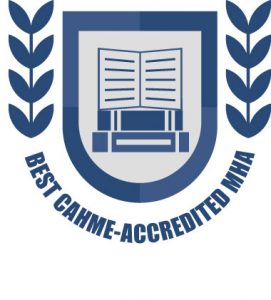 A year and a half ago, if you happened to mention to someone that you work in the field of healthcare administration, you might have gotten a few polite words about how it sounded like a pretty important job… Today, you're more likely to get a heartfelt thanks and a whole lot of questions about how the industry is bouncing back from the events of the past year.
Everyone always had some sense that healthcare management is a job that takes plenty of smarts and more than a little grit, but there is nothing that drives that idea home quite like a global pandemic, especially when it's one that managed to establish a stronger foothold in the U.S. than anywhere else in the world.
Suddenly it's crystal clear to everyone how those previously unsung heroes in the administrative offices of healthcare facilities around the country are as vital as doctors, nurses and therapists. 
Under the strain of COVID, the healthcare system has had to rely on administrators for things that were never mentioned in the job description: coordinating overnight build-outs of field hospitals in sports stadiums and fairgrounds in Wisconsin… ramping up daily coronavirus testing capacity at small Arizona clinics from 5 to almost 5,000 virtually overnight… negotiating deals for N95 respirators and going to great lengths to make sure they get to the clinicians who need them.

Whether you are already working in healthcare or not, you get the picture: the leadership and administrative know-how required of top medical administrators is crucial when it comes to saving lives in America. And it's no accident that most of the best administrators hold MHA degrees that have been specialty-accredited by the Commission on Accreditation of Healthcare Management Education, or CAHME.

<!- mfunc search_btn -> <!- /mfunc search_btn ->

If your own career goals include landing one of those elite jobs, then you know that second-rate isn't good enough when front-line doctors and nurses are counting on you. Not to mention the American public.

So you don't want just any MHA program – you want the best. And that's exactly what you'll find on this list of our top picks for the best CAHME-accredited MHAs for 2023.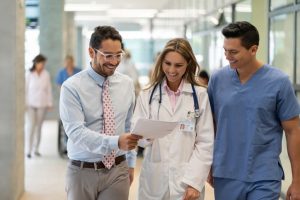 Maintaining MHA Standards Through Accreditation
There is a huge demand for MHA graduates today, putting real pressure on the education system. According to the Bureau of Labor Statistics, jobs for medical and health services managers are due to skyrocket by more than thirty percent over the next ten years. That blows the average rate of growth in any other industry or job classification out of the water.
The pandemic only added to some of the long-standing drivers behind job growth in the healthcare industry. Many would-be and current business administrators have seen the writing on the wall and are positioning themselves for the long haul by making the transition to healthcare management. As a result, enrollment in the most respected MHA programs is getting pretty competitive.
According to a 2019 Crain survey published in Modern Healthcare, executive pay in the industry has gone up by between 4 and 7 percent in each of the previous 4 years. There's a clear demand for competent healthcare leaders, and health systems and hospitals are willing to back up a Brinks truck to the payroll office to get the kind of candidates they need.
At the same time demand is surging, so is the complexity of healthcare service delivery. New rules and regulations stemming from the ACA and time-tested legislation such as HIPAA continue to make billing and compliance hot topics.
Then there's all the advances in healthcare technology, crazy stuff like Big Data diagnostics of MRI results or a new MIT technology that promises to embed vaccination history and other medical data in what amounts to an invisible tattoo. Advances like these are constantly pushing the limits of what is possible in medical science and healthcare.
And the associated costs of it all ends up falling to healthcare administrators to manage. It takes a unique skill to be able to offer patients the most advanced treatment money can buy even as budgets and insurance providers keep that money in short supply.
That presents a huge challenge to colleges who need to keep their MHA programs relevant and on the cutting-edge. And not all of them are up to the challenge.
Identifying The Best MHA Programs Means Taking a Look at Reputation, Instructors, Industry Connections, Research Contributions, Graduate Outcomes and More
CAHME has almost 80 fully accredited MHA programs listed in their database. That's great news for the healthcare administration education marketplace overall, but it also means you have to look harder to find the gems in a pretty big bunch of schools.
Our selection process relies on the kind of qualitative measures that really mean something to graduate students looking to make a substantial investment in their future. Data points alone can't tell you about the kind of student experience a program delivers, the true merit of its instructors, or the connections the department has made over the years with regional healthcare providers. But these are the things that make for a great program, so that's exactly what we looked at in trying to find the best options available.
CAHME-accreditation was only our starting point. From there, we took a look at several other factors we know are most important to healthcare administration graduate students.
Reputation and Recognition
For the most part, it's not actually a mystery within the healthcare world what the best schools are. Their reputation proceeds them; graduates go on to do big things and make a name for themselves, and that reflects well on the school. So we took a look around and saw which schools were already creating a buzz; getting on the prestigious U.S. News & World Report lists of top healthcare management or public health graduate programs, or making waves in other publications like Kiplinger's and Forbes. We favored schools with designations from other third-party healthcare heavyweights, such as those designated in the top tier of research or community engagement by organizations like the Carnegie Foundation.
Instructor Expertise and Reputation
What you learn is at least as much about who you are learning from as it is about the course materials. Understanding how to present concepts in the right way to make them click and having the kind of real-world experience that offers good examples and unparalleled authority is critical for professors who are training the next generation of administrative talent.
These schools have all taken the time and made the effort to land some of the best instructors in the business. We're talking about men and women with sterling reputations, walls papered with their own advanced degrees, and stacks of journal publications outlining their research into cutting-edge healthcare topics, and their thoughts on where the industry is heading.
Those are the kind of people you want to learn from, and you'll find instructors of that calibre at each of these schools.
Industry and Agency Connections
It's no surprise that you will find top-flight instructors at schools that are associated with top-flight medical centers, since many professors are also active health administrators or researchers working at facilities worthy of their talent. But we took a hard look at the kind of industry connections these schools have anyway. Industry connections affect the kind of internships you can land, the sort of research and capstone projects that will be open to you, and the caliber of healthcare professionals that you will be networking with throughout the program.
So we favored schools with prestigious connections that will place you in world-class medical systems like the Mayo Clinic, Johns Hopkins, or major regional medical centers—places where the action is happening and where your educational experience will be complemented by working through the kind of real-world challenges that can shape your thinking and understanding of the healthcare industry.
This also means looking for schools that have strong, well-developed alumni networks, helping hands from fellow graduates who have already found their place high up in healthcare management but who are still available to offer words of advice when it comes time for you to join the ranks after graduation.
Unique Accomplishments or Opportunities
Each of these schools has also gone the extra mile to set itself apart from the crowd when it comes to unique opportunities, or particular accomplishments within the field that students can take advantage of. Whether it's an 11-month paid residency at a top healthcare organization or dedicated, year-long preceptorships where you're paired-up with a wise mentor for the final phase of your studies – all of these schools have found key ways to offer something a little bit extra to their students.
That can include unique concentrations or sub-specialties that you just won't find anywhere else, or dual-degree options that bring together the unique combination of interests that you feel are best aligned with your career goals. That means not every school on the list is equal, but it does mean that you are more likely to find that perfect fit with one of these options.
World-class Research Centers
Just like every other aspect of healthcare, the administrative side of the business is driven forward through the efforts of cutting-edge research projects and leading thinkers conducting experiments, developing theories, and putting together trends and technologies in unique ways that will change the landscape of your own healthcare management career.
You'll always find yourself better positioned in the industry when you have studied with or alongside the researchers that are breaking new ground, so we picked out schools that have ties with some of the most advanced healthcare and leadership research centers in the nation.
Graduation and Post-Graduation Employment Rates
Finally, it's always a sign of a good healthcare administration program when graduates are immediately snatched up by employers as soon as they get that diploma in their hands. We evaluated the post-graduation employment rates for these schools and gave strong marks to every school that found fast placement for the overwhelming majority of graduates.

<!- mfunc search_btn -> <!- /mfunc search_btn ->

Similarly, we considered overall graduation rates for the programs. Although a low graduation rate can sometimes indicate a tough and prestigious degree program, a high graduation rate shows you which programs genuinely invest in their students. When you pay top dollar for a first-rate healthcare administration education, you want to know that your faculty and the team behind them are pulling for you—so we preferred schools with high graduation rates as well as strong job placement numbers.
Our Top Picks for the Best CAHME-Accredited MHA Programs by Region for 2023
Of course, there are plenty of other things to take into account when you are selecting an MHA program that have less to do with the overall quality and more to do with your personal circumstances. We can't account for all of those, but what we have done is tried to offer you the kind of information on each of these schools that will make it a little easier for you to find your best fit.
If you're at the point in your career where you are thinking of picking up a master's degree, you are probably already at a stage in life where picking up and moving halfway across the country isn't going to work for you. Almost all of these programs are either residential, traditional on-campus degree programs, or hybrid degrees that blend online and regular classroom learning.

Of course, these days, plenty of traditional on-campus programs have shifted all the coursework that can possibly be done remotely to online platforms. We stay true to each school's classification of programs as either on-campus, online or hybrid, though in many cases you'll find that those definitions are fluid.
Although we didn't consider cost in our selection process, we have listed program pricing, and noted when it falls into best value lists from other publications.
We've broken the list down by region (Northeast, Midwest, Pacific, Rocky Mountain, South) to make it easier for you to zero in on the programs nearest to you.
Wherever you go to earn your degree and no matter where you want that degree to take you in your career, we can say with absolute confidence that you can't go wrong with any one of the 20 programs listed here.
---
Northeast Region
Midwest Region
Pacific Region
Rocky Mountain Region
Southern Region