Sponsored School
Earn your MHA online from the George Washington University. Experienced health care professionals looking to advance into executive roles can now earn their MHA online from the world-renowned Milken Institute School of Public Health at the George Washington University. Study with top faculty, gain invaluable skills and network with health leaders. Learn more.
The online Master of Public Health (MPH) program from the Milken Institute School of Public Health at the George Washington University helps students succeed in advancing the health of population locally and globally. Request Information.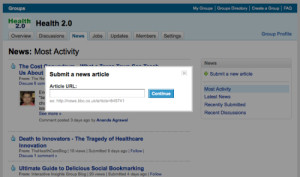 Social media is a tricky kind of thing for healthcare professionals to try and utilize. There are some elements of social networking that offer significant value to the medical profession, but there are also plenty of elements that are just there to waste time. The trick is to find the social platforms that bring value and can help you to enhance your career.
The social media website known as Linkedin has become a powerful way for people to network with others within their industry. The problem can be that those networks will often get infiltrated with people who have alternate reasons for getting involved, such as trying to sell medical equipment to doctors or healthcare administrators. If you join a group to exchange the latest information on public health policy, then the last thing that you want is to get a barrage of emails trying to sell you the newest research equipment.
If you know what you are looking for on Linkedin, then it is not that hard to find useful groups you can join who will offer valuable information and contacts. Remember that one of the reasons that many people join Linkedin is to find a better job. If you are a healthcare manager or administrator, then the chances that you will get some unwanted resumes sent to you are pretty high. You may want to keep an open mind, because you never know when the perfect employment candidate will pop up in your Linkedin mailbox and save you thousands of dollars in recruiting fees.