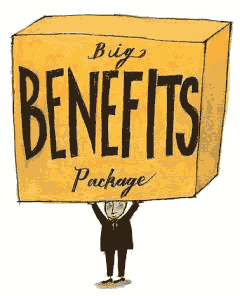 The reasons that a person chooses their particular profession are both personal and practical. If you are a student who is just considering what career to enter, or you are a person who has years of workplace experience but is considering a change in careers, then you will want to give serious consideration to pursuing a Master of Health Administration degree.
You could list a lot of personal reasons why pursuing an MHA degree is the right choice for you, but you should also consider the practical reasons why this kind of a career is your best option. Aside from giving you the chance to be successful in the healthcare industry without having to go to years of school to be a doctor, an MHA will give you the solid foundation you need to pursue a fulfilling career.
#1 You Cannot Advance Without An MHA
You could have decades of experience in the healthcare field, but you are not going to achieve your administrative employment goals without an MHA. Some organizations may take you on at an entry-level position to allow you to get some valuable experience in the healthcare industry. But if you are not going to pursue your MHA degree, then there is only so far that you can go.
In most organizations, people who are on a corporate career path in healthcare management or administration will risk losing their positions if they do not get their MHA degree. The healthcare industry is a lucrative way to make a living, but you will only be able to live up to your true potential if you have the necessary educational foundation.
#2 It Pays Well
Some people avoid getting their MHA because they do not feel that the investment in their career will pay for itself over time. There is a wide variety of healthcare administration positions available in a lot of different industries, but the median income for a healthcare executive with his MHA is between $82,000 and $117,000 per year. The income varies based on the size of the organization and the extent of your healthcare industry experience.
If you want to maximize your earning potential in the healthcare industry, then you need an MHA degree. The jobs that pay this median salary are only achievable with the help of the added education as well as many years of practical work experience.
#3 A Sense Of Responsibility
An MHA puts you in line for a position that dictates the future of a healthcare organization. Your decisions will affect the careers of potentially hundreds of people as well as the lives of thousands of patients. The notion of taking on more responsibility is one of the reasons why some people pursue a career so diligently. In the end, those careers wind up being lucrative, but their relative effect on the public is limited.
Healthcare is serious business and it takes a strong and decisive individual to run a healthcare organization. The sense of responsibility that comes with these kinds of positions can help to make this one of the most rewarding career choices you could make.
YouTube Special Feature
Meet Liz who is enrolled in the Mount Saint Mary's University MHA program. Current Master of Health Administration student reveals how the accelerated evening format helps her balance a career and family life while pursing her MHA degree.
#4 The Range Of Disciplines
When you pursue an MHA degree, you are faced with having to learn a wide variety of different disciplines. You need to be accomplished in accounting, market research, management skills and you also need to have a strong set of leadership qualities as well. Not only that, but you also need to become knowledgeable regarding the work that your particular organization does.
There is a challenge associated with an MHA degree that does not exist with a standard MBA or almost any other kind of degree. The broad scope of information that you must have at your disposal makes this one of the more prestigious degrees to attain in the business and healthcare fields.
#5 You Would Be In Demand
The healthcare field in general will see a significant spike in available positions in the coming years, but this will be especially true in healthcare administration. As the population of the United States continues to get older, more and more healthcare facilities will open to accommodate the need. The trend of urgent care facilities replacing emergency rooms at hospitals is also creating a need for more administrators.
Your MHA degree will be the key to a prolonged and successful career in the healthcare industry. You will be able to enjoy advancement in your field and, as long as you continue to enhance your educational background, your opportunities will be significant.
#6 Your Future Is Flexible
When you have your MHA degree, you can choose what kind of medical facility or network that you can work for. You could decide to become the administrator of a nursing facility, or you may decide to take on the responsibility of running an entire health network. When you continue to gain experience, you will also be opening new doors for yourself.
The healthcare industry tends to change frequently. Urgent care facilities were almost non-existent just five years ago. But they have grown into the treatment method of choice for millions of people. As the trends in healthcare continue to change, your skill set will allow you to be flexible in the decisions that you make.
#7 You Will Make A Difference
Healthcare administrators are in charge of the fate of our entire healthcare system. The finest doctors in the country cannot practice their craft without capable administrators. The patients that rely on hospitals and other healthcare facilities cannot get the help they need without the hard work of compassionate and dedicated administrators.
If you want a career where you will make a difference in the lives of others, then get your MHA degree and become a healthcare administrator. You will dictate the fate of new medical technology and your efforts will help bring adequate healthcare to the area where you live. You can get your degree and return to your hometown to help create the most comprehensive and effective healthcare system that your area has ever seen. It is all possible with an MHA degree.
Resources: