<!- mfunc feat_school ->

Featured Programs:

Sponsored School(s)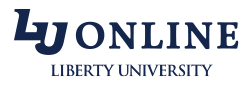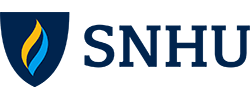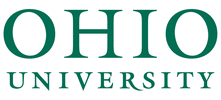 <!- /mfunc feat_school ->
Your 5-Step Guide to Becoming a Hospital Administrator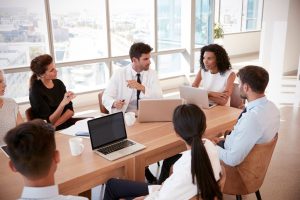 Right now, not far from you, people are making hard decisions about life and death.

Some of them are cops and firefighters, but a lot of them are working in your local hospital or medical center. Doctors, nurses, medical and diagnostic technicians, even lab workers and nutritionists, working at all hours of the day and night, are putting their professional knowledge to use trying to save and improve the lives of people in need.

But even with the best healthcare professionals in the ranks, patient care is largely limited to what the hospital system itself provide. These professionals need supplies, equipment, data-driven insights, information communicated effectively… in fact, they need to be vetted, hired, trained, supported, and supervised first. They need to be given marching orders, coordinated, and organized to all pull in the same direction. The pharmacist needs systems to get prescriptions from the physician, the physician needs nurses to support and assist them, they all need desk staff to set up appointments and follow up with patients, and the whole thing needs a billing department to recoup costs and keep the operation solvent.

And all of that is the responsibility of the hospital administrator. It's a position of enormous authority and awesome stress. It's not on the frontlines, but the frontlines don't exist without it. Administrators are stupefyingly well-paid, but also held to strict account by the legal system, patients' rights groups, and shareholders or non-profit boards.

<!- mfunc search_btn -> <!- /mfunc search_btn ->

According to the American Hospital Association, more than 36 million admissions will happen under their watch in the average year. It's happening in a medical system that is still racked with the aftereffects of the COVID-19 pandemic, with almost 30 percent of front-line providers traumatized from the experience, and others still bitter and ready to strike over failures to prepare supplies and hire fresh staff. It's one of the most expensive healthcare systems in the world, with the average American due to spend almost $15,000 annually on healthcare by 2023 according to the Centers for Medicare and Medicaid Services, while at the same time hospital systems are being forced to freeze salaries and cut benefits from multi-million dollar revenue shortfalls.

It's not the kind of job that everyone would want to step into right now. But it's one that the country desperately needs filled by the best and the brightest. And it can hold great satisfaction and big rewards for the ones who step up.
---
Step One: Earn a Bachelor's Degree To Get Started in Hospital Administration
Step Two: Build Your On-the-Ground Healthcare Experience
Step Three: Pick Your Healthcare Management Specialty
Step Four: Advance Your Education in Healthcare Administration with a Master's
Step Five: Drop a Gear On Your Hospital Administration Career
---
Step One: Earn a Bachelor's Degree To Get Started in Hospital Administration
Although you can, and might, find a position working in entry-level jobs in the back offices and reception desks of hospitals and medical practices with just an associate's degree, your hunt for a hospital administrator position will not really begin until you earn a bachelor's degree.
Even healthcare administrators further down on the managerial responsibility totem have important roles to play in patient care and safety—in Arizona, during the pandemic, one tiny medical clinic administrator started off giving about five COVID-19 tests per day, and within three months was organizing over 4,000 tests daily.
So even lower and mid-level management roles go to trusted individuals with the right kind of education to guarantee their duties will be performed to high standards.
Bachelor's programs aren't just about delivering specific information and training, however. In the American collegiate system, they are also about exploration and broadening horizons. Many college students don't even pick a major until they have a year or two of general studies under their belt.
You have a lot of latitude in picking a degree that will line up with your specific interests in healthcare.
Bachelor of Science in Health Services Administration
Bachelor of Science/Arts in Healthcare Administration
Bachelor of Science/Arts in Healthcare Management
Bachelor of Business Administration in Healthcare Management
Bachelor of Science in Health Care Business Management
Bachelor of Science in Business – Health Care Management
Bachelor of Science in Information Management – Health Informatics
Bachelor of Science in Public Administration/Public Health
Although dedicated healthcare administration degrees might seem like the obvious choice on your journey into hospital administration, there are many successful hospital administrators who have picked business degrees as their first choice. Healthcare is a business, a massive one, driving $3.4 trillion in spending annually and amounting to more than 18 percent of national GDP as the largest single employment sector in the United States.Managing the behemoth organizations that handle that much money and all those employees is a business problem of the first order; you may prefer to emphasize your expertise in business and come at the specifics of healthcare management later.
There's another path that some hospital administrators pick: becoming a healthcare provider. This is the start of an intensive and demanding journey that nonetheless offers a unique perspective on medical management by putting you through the early career path of a nurse or doctor before branching over into administration. Pre-med or nursing degrees are the obvious choice on this course, but will involve little of the business or industry training you get from standard healthcare admin degrees.
Considering the Differences Between Arts and Science Bachelor's Degrees
Most programs in healthcare administration or business fall into the category of sciences: they focus on math, science, and practical applications of knowledge in the field of study. But you will also find some degrees offered as BAs: a format that offers more emphasis on the liberal arts, communication, language, social studies, history, and other elements of traditional collegiate study that are designed to broaden your perspectives and increase your critical-thinking and problem-solving skills.
There's no one right choice for hospital administrators, all of whom ultimately need both hard and soft skills in their challenging, diverse jobs. It's a matter of preference and emphasis which path you will pick.
Healthcare Administration Bachelor's Admissions Standards
When you eventually work your way up to graduate school you might find the programs to be highly competitive at that level, but fortunately it's still pretty easy to get into the right kind of bachelor's degree program.
Still, there are application hoops to jump through, and some particularly well-respected schools may be harder to get into than others. You can expect to have to meet some variation of the following requirements:
Submit high school transcript and meet a particular overall grade point average
Have a high school diploma or GED
Take an SAT or ACT exam and meet a certain minimum entry score
Submit letters of recommendation from teachers or mentors
Offer examples of extracurricular activities
A Common Curriculum Builds the Foundation for Hospital Administration
Your program will come to around 120 credits of coursework over about four years of study. Many of those courses, whether you pick an arts or sciences degree, will include required general education classes like English, mathematics, and languages.
But the rest of the program will be the meat and potatoes business and medical industry courses covering things like:
The American Healthcare Industry – American healthcare is a unique conglomeration of federal, commercial, and non-profit providers and insurers, with policy implications and structural factors that every hospital administrator will have to account for. For example, due to cost, compensation, and technical factors, global consultancy Deloitte projects a rotation from inpatient to outpatient services that will see healthcare support and technical sectors booming at 23 percent and 15 percent growth respectively, six times that of hospital facilities. You'll need the foresight to get ahead of those trends.
Strategic planning and organizational structure – These are standard business training courses in the mechanics of how large groups of people can be organized, long-term plans made, and important programs executed and guided to success.
Business communications and marketing – Similarly, every business, even in healthcare, has to be able to communicate both internally and externally, and appeal to potential customers, and you'll learn the arts and sciences of those fields.
Finance and economics – Businesses run on numbers, and you won't graduate from a business or administrative degree program without spending a whole lot of time diving into macro- and micro-economics, balance sheets, budgets, taxes and every mechanism used in financial accountability today.
Healthcare regulation and ethics – Healthcare's unique position in American business comes back to the fact that it is an industry of life and death. For all the emphasis on finance and numbers, healthcare leaders have to understand at a deep level that they are making decisions that will impact lives. Understanding industry regulations and the ethics of healthcare decision making is covered early and in-depth.
Health Informatics – Information technology is revolutionizing healthcare a bit later than the rest of American industry, but with the same massive impact. No modern healthcare executive advances far without getting into the information systems and data-collection that offers insight and feedback on how their organization is performing. It's very disappointing to learn that 70 percent of electronic health records are in error, in some cases recording women who had never been pregnant as having given birth twice, this is a major area for understanding and improvement.
Concentrations in Healthcare Administration Bachelor's Degrees
Many bachelor's degrees also offer specific concentrations within the field of healthcare administration for you to focus on. If you have selected a business degree, then the concentration will likely be healthcare administration itself. Within healthcare admin degrees, though, you can find other concentrations available in certain niche areas, including:
Health Care Management
Health Informatics and Information Management
Patient Safety & Quality
Health Promotion/Public Health
Each of these can add a slate of specific additional required classes that give you a more in-depth perspective on their focus area, and better prepare you for the jobs that are available in those specialties.
Understanding the Role of Specialty Accreditation
College accreditation isn't on the radar for most students because most undergraduate students can be pretty confident that any school they pick will already hold at least a general accreditation from an accreditor recognized by the Department of Education.
But anyone dropping into a specialized field like healthcare administration or business should take the time to verify that their school or program has also been checked out and approved by the relevant specialty accreditor for the field.
There is no one agency that handles this for every healthcare related degree, but you should look for a stamp of approval from one of the following depending on your choice of major:
Healthcare Administration Degrees
Business Degrees
Health Informatics Degrees
Public Policy or Public Health Degrees
Step Two: Build Your On-the-Ground Healthcare Experience
With a bachelor's degree in hand, you can take your first steps into one of the 16 million jobs that the healthcare industry provides in the country today.
Your first job out of college probably won't be one with a lot of responsibility and supervisory duties; no one wants to roll the dice on a shiny, fresh-faced college grad without a lick of on-the-ground experience on their resume. So your first position will probably be something like healthcare analyst, picking through the details of service delivery and patient quality measures until you understand the business inside out, or as a billing and reimbursement specialist, picking up all the intricacies of medical documentation, insurance submissions, and ICD-10 coding.
In time, you'll start to work your way up through your department. Jobs like records supervisor, product manager, outreach coordinator, and community health organizer will come your way. After a few years of proving your capabilities and maturity, you're likely to end up running a department, or, in smaller organizations, taking on a leadership role such as director of patient safety, facility administrator, or program director.

<!- mfunc search_btn -> <!- /mfunc search_btn ->

As you climb the corporate ladder, you'll spend a lot of time learning not just about your own area of practice, but about the industry as a whole. It's not uncommon for healthcare administrators to work in a variety of departments and roles, moving into areas where they have more talent or greater interest.
Step Three: Pick Your Healthcare Management Specialty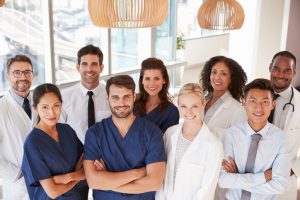 That kind of diversity of experience will pay dividends when you get to the point of applying for hospital administrator jobs—a good administrator will have a little bit of knowledge about every department in the building, from diagnostic imaging down to procurement. You may not work in every single one of them, but the different positions you fill will give you exposure to different aspects of the many different functions that make up an effective hospital.
At some point, however, you'll find that advancement will come only with expertise. You'll want to choose some particular area of healthcare administration to specialize in, becoming the go-to person for everyone in the organization through your knowledge and experience.
Patient Accounts and Services
The average American spent more than $10,000 on healthcare services in 2019, a number that is only going to be rising in the future. Most of that money is tallied up, billed out, and collected through the patient accounts team, who handle insurance coding, reimbursement, and spend a lot of time on the phone explaining benefits or clearing services. You'll learn a lot about insurance and billing here, as well as patient relations and customer service. IT and informatics are frequently part of this group also, unless they are, for some odd reason, incorporated into the finance department.
Clinical Departments
The heart and soul of a hospital lies in the various clinical departments. From the fast-paced world of the ED to the joy and cheer of ob/gyn, working in any of these areas will put you cheek-to-cheek with clinical staff and give you the ground-level perspective on what it means to offer healthcare services to real patients, not just abstract numbers.
Logistics and Supply
Until 2020, it was easy to take the supply team for granted at any major American healthcare facility. Open any closet and find an infinite supply of 4x4s or suture sets; no one even thought twice about it. Then COVID-19 came, and logistics professionals around the country became the heroes of the hour for going to the ends of the earth just to turn up one lousy box of N-95 respirators. Budgets managed by administrators in these roles surged from hundreds of thousands to millions in months, and no one ever took them for granted again.
General Services
Hospital facilities can be labyrinths of sub-basements, storage closets, electrical and gas cylinders, infectious and radiated areas, and hazardous materials storage. Someone has to keep track of where it's all at, keep it clean, in good repair, and secure. That falls to general services, the admins who manage security, parking, housekeeping, catering, and all the other general needs that keep a hospital running in good repair.
Finance
The process of operating all the above involves taking the revenues in from patient accounts and turning it into services, supplies, and paychecks without running out at the end of each month. That's the responsibility of administrators working in finance, who take the green coming in and budget, supervise, and distribute it into healthy patients going out. With the Congressional Budget Office predicting that almost half of hospitals will face negative margins by 2025 due to the pandemic, finance professionals are more important than ever.
Health & Safety
Speaking of healthy patients, long experience has taught American medical professionals that independent oversight is critical for ensuring the health and safety of both patients and staff. Regulatory compliance is also in the domain of these admins, who have broad authority to oversee and investigate other departments. While COVID-19 demonstrated the importance of infection control procedures, even as the pandemic recedes these administrators will return to the fight against MRSA and other life-threatening infections.
Human Resources
Finally, nothing is more important in healthcare than people. With ongoing personnel shortages—the American College of Physicians estimates the field will be short of 45,000 primary care providers alone by 2030—an effective hospital administrator can't ever take human resources for granted. Recruitment, retention, and compensation will all be critical skills in the coming decades for any competent administrator.
In small organizations, you might advance to become head of one of these departments, while at larger healthcare providers you'll probably top out in a subordinate role of some sort until you go on to earn a master's degree.
Consider Earning a Certification or Joining a Professional Association in Your Healthcare Management Specialty
As you angle for promotion and to build your knowledge in these roles, it's worth looking to see if there are any specialty certifications available to boost your credentials and polish your resume up. Certification of this sort is purely elective, but it does signify in a pretty significant way that you elected to go all in on your specialty and that you're glad to put in the extra hours and some of your own hard earned money to prove it by becoming certified.
There's no consolidated certification agency, but various organizations offer certs that can help you understand your role according to the best practices of the industry:
Many of these certifications also involve membership in the professional organization that grants them.
There are a number of organizations that may be worth joining regardless of whether they offer you a certification.
That's because continuing education and networking should always be on your mind as a future hospital administrator. No one gets to that top spot without plenty of help along the way. That means building a set of relationships and resources that you can draw on when the hard decisions come up… and they will come up.
Medicine is a constantly evolving sector and the stakes are high. The confluence of policy, politics, technology, and biotech comes together to flip the industry on its head regularly, whether it was the major changes in insurance that came with the Affordable Care Act in 2010 or the revolutions in treatment that have been emerging since the sequencing of the human genome was completed in 2003. Staying up-to-date is key to your advancement and success.
Step Four: Advance Your Education in Healthcare Administration with a Master's
At some point, you will have advanced as far as you are going to get in the industry with only a bachelor's degree to your name. No matter how much experience you have under your belt, graduate work is critical in this industry.
That means that eventually you're going shopping for a master's degree.
For your master's, you'll have the same variety of majors to look to as you did when you were picking out your bachelor's degree, but now you'll be able to look them over with a keener eye based on your real-world experience. Maybe you feel like you are already strong in medical knowledge and think an MBA (Master of Business Administration) with a healthcare management concentration will offer the best complement to your skills. Or maybe you've been nose to the grindstone in the finance department and want the broader overview of healthcare systems that an MHA will offer.
MHA's also come in a wide variety of concentrations, so you can continue to specialize even as you broaden your overall expertise. Those can include:
Population Health
Leadership and Organizational Development
Systems & Policy
Social Entrepreneurship and Innovation
You should think of your master's degree as an opportunity to polish up your expertise and shore up any areas you think need improvement as you prepare for the jump into hospital administration. Don't be afraid to take your time to narrow it down; talk to your colleagues, superiors, and reach out to your network to see how they view your current skills and what they think of the state of the industry. A master's program will bring you tremendous opportunities, but it's a big commitment in time and money. Be sure you are taking the right shot before you pull the trigger.
Admissions Criteria for Healthcare Administration Master's Programs
You'll find a master's program a lot harder to get into than your bachelor's was. Admissions committees at this level look for three things:
Past performance: You'll have to show a strong grade point average and challenging coursework performed at the baccalaureate level to demonstrate that you can meet the greater demands of master's-level coursework.
Future promise: Most programs will require that you take either the GRE (Graduate Record Exam) or GMAT (Graduate Management Admission Test) and pass with a certain minimum score. They are also likely to want to hear from your former professors, superiors, or mentors in the form of recommendations, attesting to your professional skills and promise.
Commitment to goals: Your drive to complete the program and go on to greater heights with the degree in hand are important to colleges. They don't want to waste time on students who don't have the grit to get through the course. Be prepared to answer hard questions about your motivations and goals in either an essay or interviews.
Master's-Level Theses, Projects and Curriculum Drill Down to the Essentials of Hospital Administration
A master's degree curriculum will cover some of the same areas as you studied as an undergraduate, but both with more depth and a more advanced perspective. The curriculum will also be more focused on the major area, offering a higher degree of expertise with fewer outside subjects.
The specific courses will vary considerably based on the major you choose. An MBA, for instance, will have quite a few classes that are dedicated to general business skills and environment, like micro- and macro-economics, communications, marketing, and strategy. An MHA will deliver more healthcare-centric classes like global health systems, quality management, and healthcare policy and regulation. Or you might have selected a degree like an MPH (Master of Public Health) or MPA (Master of Public Administration), which will zero in on things like epidemiology or political analysis.
Every master's will also require a significant investment of your time and intellectual resources to tackling either a master's thesis or completing a capstone project. Both options involve intensive and original research, requiring you to come up with your own take on a problem facing modern healthcare. With a thesis you'll be addressing that problem and working through a solution by way of a 60-90 page analysis that you'll have to defend and revise through a lengthy process that involves submitting it to the full scrutiny of a panel of professors. With a capstone, you'll be creating a realistic solution in concert with an actual healthcare organization to demonstrate mastery of everything you learned in the program and likely presenting it before a faculty panel. This can take as much as half of your total time investment in earning the degree, and with graduation hinging on the whole thing, it can make or break your success in the program.
Earning a Master's Degree While Working in Hospital Administration: Considering Remote Learning Options, Cost, and Accreditation
Regardless of what you are studying specifically, you're looking at two years of intensive study and participation. As a mid-career professional, that piles a huge educational challenge on top of the demands you already face at work, and all the things in your life outside of work, like family and relationships. Many master's programs are built with these obstacles in mind, either being delivered on evenings and weekends, or being offered primarily online.
In the age of COVID, remote programs have gone from a matter of convenience to one of pure practicality. With classes delivered asynchronously, streamable to you at any time of the day or night, and with interactions with your instructors and fellow students being done via chatrooms, e-mails and the occasional Zoom meeting, these programs ensure the process of earning your degree is as safe as it is convenient.
It's up to you to find a suitable format to fit your lifestyle, and to make whatever personal changes you might need to make to keep up. A typical graduate degree in 2017 cost $11,097 per year at a public institution, and $22,913 at a private university according to the National Center for Education Statistics. For two years, that puts the costs between $22,000 and $44,000, but a quick glance at the CAHME-accredited list of MHA degrees shows that you can spend a lot more than that for top-level programs… some programs range into the $80,000 to $100,000 mark.

<!- mfunc search_btn -> <!- /mfunc search_btn ->

That's something you can afford as a mid-level manager, but it's not cheap—it's an investment, and you'll need to manage it like one, giving yourself every chance to succeed and earn the opportunity to get that money back… and more.

Just like at the bachelor's level, accreditation is an important factor both to assure yourself that investment is a wise one, and to ensure that future employers will give your degree the weight it deserves. The same accreditation agencies noted above are in play for MBAs, as well as degrees in informatics, public health and public administration, but if you're going all in with a Master of Healthcare Administration or other health admin master's, you're going to be looking exclusively at the Commission on Accreditation of Healthcare Management Education (CAHME). Not only is this the one agency that credits MHAs and other master's-level health administration degrees, that is literally the only type of degree they accredit so you can be sure they're very much tuned in to the needs of the industry and the expectations of employers.
Post-Master's Certificates Provide Clinicians with a Path to Careers in Administration
If you were one of those ambitious people who took the fork in the road at the baccalaureate level that took you through the difficult but rewarding world of medical or nursing school, there's an option for you to get back on the path to a career in administration that doesn't involve returning to college for a full-blown master's degree. After all, a full-fledged MD, PA or NP has already spent more than enough time in school, and many RNs have already gone on to earn master's degrees as well.
A post-master's certificate program can be the perfect option for healthcare professionals looking to build their skills on the administrative side of the business. Clocking in at only around a year, these programs are faster and less expensive than a full-fledged master's degree, offering 15 to 25 credits in a flexible, part-time schedule designed to accommodate working professionals.
They offer you all the advanced information you'll need in administration, financial, and organizational subjects while skipping over everything you already know about healthcare, and forgoing a full-on thesis or capstone project.
Should You Continue to the Doctorate Level in Healthcare Administration?
A master's, as important as it is, is not the terminal level degree in healthcare administration. An elite few in the field press on to earn a DHA (Doctor of Healthcare Administration) or PhD in healthcare administration.
Most advancement opportunities and new jobs in healthcare administration will be open to you with only a master's degree, but when you hold a doctorate, you won't likely find a single one that isn't an option. A doctorate involves around another three years of schooling and another $20,000 to $60,000 in tuition costs, so it's not a step to take lightly.
Yet it will give you an unparalleled education in your field, and unlock some of the top positions at the largest hospital systems in the country. The DHA is considered an applied degree, designed specifically to prepare you to lead and strategize where the rubber meets the road at the highest levels as opposed to the kind of research and academic work PhDs are known for.
Only you can know where your ambitions will lead you. For administrators with the determination, vision, and energy to lead healthcare into the 21st Century, however, a DHA can be the key to unlocking that path.
Should You Consider Advanced Board Certification by Becoming a Fellow of the ACHE?
Similar to the professional certification options discussed in Step 3, there is nothing required about joining the American College of Healthcare Executives (ACHE) and becoming a board certified Fellow after earning your graduate degree. But with the FACHE (Fellow of the ACHE) credential being among the best recognized and most respected in the business, it's something that's definitely worth considering if you're a health administration career lifer in a high-level executive role.
You can join the ACHE as a Faculty Associate, Student Associate or International Associate after earning your bachelor's, and if you plan to go on to become a Fellow, that's not a bad time to do it since one of the basic requirements for achieving that benchmark is that you've been a member for at least three years.
Earning FACHE status tells the professional community that you're an experienced expert with an advanced degree and a commitment to ongoing professional development. Getting there involves a handful of some pretty serious achievements along the way:
Being a member of ACHE for at least three years
Holding a master's or doctoral degree
At least two years of healthcare management experience
Two references from current Fellows
Completing at least 36 hours of healthcare management continuing education during the three years prior to applying
Volunteering for healthcare-related and civic work in the community during the three years prior to applying
Passing the Board of Governors examination
Step Five: Drop a Gear On Your Hospital Administration Career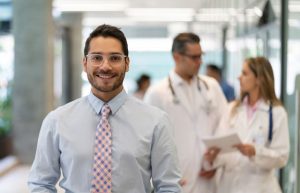 A master's degree plus the experience you have already built up in the industry will unlock opportunities at all sorts of facilities. Maybe there's a position in your current organization that you already had your eye on. Or maybe you just know that you want to run a hospital somewhere, to be in the driver's seat in an exciting and important job that makes a difference in the community.
All of your networking and connections comes into play at this point. Whether it's cutting through the office politics that comes with competing for promotions at your current hospital, or getting a heads-up about an opening that is coming up at another facility a few days before anybody else, who you know will become vitally important as you turn your education into a new job.
Salary and Compensation Packages Designed to Attract Top Talent
Senior leadership positions in the healthcare industry are enormously lucrative, maybe even more than most people realize. A handful of years ago, the New York Times revealed for the first time that administrators frequently out-earn even the highest paid physicians and surgeons in their systems. And a survey conducted by Crain a few years later found that the raises just keep on coming, with executives at six of the nine largest Chicago-area non-profit health systems receiving substantial raises despite cost-cutting pressures in the industry. And in 2019, Forbes found that of the 82 largest non-profit hospitals in the U.S., only 8 paid their top-earning executives any less than $1 million annually.
No matter how you cut it, there is a lot of earning potential in hospital administration.
Not all hospitals operate in a single salary schedule, of course. Companies respond to market demand when setting salaries, but they aren't going to offer more than they can afford, or more than the scale of the position demands.
That means you're looking at different salary ranges based not just on the job title, but also the size of the organization, and its ownership structure.
According to a 2019 Crain survey published in Modern Healthcare, that means these are the median base salaries depending on revenue and ownership:
Hospitals with Net Revenue Over $300 Million

President and CEO, stand-along hospital – $777,000
President and CEO, system-owned hospital – $475,000

Hospitals with Net Revenue Below $300 Million

President and CEO, stand-along hospital – $524,300
President and CEO, system-owned hospital – $310,000
Of course, there are many other factors in play besides the size of the organization. Where your hospital is located can also play a big role in what you can make. According to Total Compensation Solutions 2019 Hospital Executive Compensation Report, pay rates for top financial executives in hospitals varied from city to city, but were still strong across the board:
Atlanta : $455,900
Chicago : $403,900
Dallas : $297,400
New York : $585,900
San Francisco : $407,200
Washington D.C. : $365,200
If those numbers look impressive, though, you have to understand there is only so much room at the top of the pyramid. The elite chief executives who pull down that kind of money compete for years, and sometimes decades, for those top slots.
You can find hospital administrator jobs with a master's degree that are still pretty far up that pyramid without being at the very top, however:
Chief Operating Officer – $390,800
Chief Financial Officer – $355,300
Chief Information Officer – $272,800
Chief Human Resources Officer – $236,300
And those base salaries are only a part of the picture when it comes to total take-home for hospital administrators. At this level, incentives and bonuses can make up a significant percentage of your total compensation. For example, while the overall median base salary for CEOs in 2019 came to $650,300, the actual total cash compensation worked out to $803,700. And quite apart from those cash bonuses, many for-profit hospital system executives may be offered stock grants, which will deliver compensation based on how well the organization as a whole performs.
No matter what, you can expect those numbers to be climbing sharply for the foreseeable future. Crain's Modern Healthcare found they represented a 6.5 percent jump over the 2018 numbers; the survey found a war for talent and huge demand as systems began to amalgamate in the American healthcare landscape.

<!- mfunc search_btn -> <!- /mfunc search_btn ->

You'll have to weigh all of this alongside your desire for the responsibility and agency that come with those top jobs. Maybe it's that ability to make a difference and chart the course of a major healthcare organization that drives you more than money. Maybe operating a non-profit, where salaries and benefits can be lower, is just more satisfying to you than working at some massive healthcare conglomerate. Or maybe the independence of a small system suits your style more than the demands of a publicly-traded company, where investors represent a kind of boss who doesn't accept excuses and doesn't always understand the pressures of the environment.

One thing is certain, however. With a graduate degree in the field and years of experience to back it up, all those jobs are on the table for you.