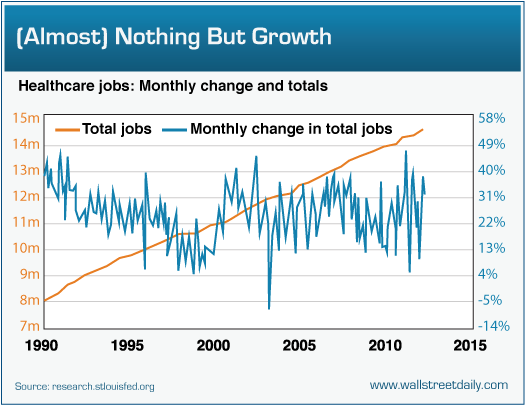 When a new healthcare administration graduate walks across the stage and grabs his degree, he wants to have an idea of what direction his career will be headed in for the rest of his life. Job trends in healthcare change all of the time, but it is important to be in touch with the trends that will affect you after graduation.
SEE ALSO: MHA Graduate Salary Outlook
The growth that healthcare administrators will see over the next few years will come from a variety of health-related fields. Some of these are growing fields that have been developing in recent years, while others are fields that have been around for a long time but are taking on new roles. As you plan your path in life for after graduation, it helps to understand what the job trends will be for the next several years.
YouTube Special Feature
What's around the corner for health care organizations and policymakers in 2013? Deloitte's industry leaders discuss the coming year's top issues and trends.
#1 More Internships
One of the trends that graduates will notice right away is that there will be a lot more internships available right after graduation. In a struggling economy, organizations want to be certain that they are hiring quality graduates and employment prospects. That is why more organizations will be offering internships as opposed to full-time employment. Healthcare administration graduates will have to prove their mettle a few times over before they will start to see real paying job offers come in.
Some of these internships are paying, but most of them are short-term. The experience you will gain from taking on these kinds of positions can help you secure a full-time position that you enjoy.
#2 Grant Writing
If you keep a close eye on the effects of the economy, you will be able to pick out opportunities for your healthcare future. Grant writing has always been a huge part of the healthcare administration field. But as the global economy continues to struggle, grants are becoming more and more important. There are opportunities in non-profit grant writing, government grant writing and corporate grant writing. If you learn the intricacies of this kind of administrative work, then you would be able forge a successful career for yourself.
#3 Lobbying And Advocacy Organizations
The wide availability of social media has raised the general public's awareness as to the importance of public health policy. The new healthcare reforms implemented by the Obama Administration have also helped to bring attention to lobbyists and advocacy groups.
As a healthcare administration professional, you could create a very lucrative and successful career for yourself working for an advocacy group. Remember that there are groups dedicated to domestic policy and there are groups that get involved in health policy all over the world. You can choose which direction you want to go in as you go through your career.
#4 Long-Term Facilities
The aging American population has put a spotlight on the need for long-term care facilities, especially nursing homes. This is a strong trend in healthcare administration that will be going on for a very long time.
#5 Research Organizations
The constantly shifting health regulations make it difficult for research organizations to find funding and research opportunities. That is why the medical research industry is in desperate need of talented healthcare administration grads who can help these organizations to stretch out their funding and find new opportunities.
#6 Specialized Healthcare
It seems that every new medical professional is a specialist these days. Not only are specialists popping up everywhere, but they are also in high demand. Many specialists are creating large organizations to avoid utilizing the resources of a hospital or other large research and treatment organization. These practices are becoming huge and they need administrative help.
#7 Raising Public Awareness
Many healthcare administration graduates are choosing to get involved in causes that help to increase public awareness on health issues. This is significantly different than advocacy groups or lobbyists who try to influence public health policy at the government level.
#8 Employment Trends
To go along with the different industries that will need healthcare administrators is the positive outlook on employment for healthcare professionals. The rise in healthcare regulations and the success of private practices means that there will be a significant spike in opportunity for grads.
#9 Specialize Your Talents
One of the things that healthcare administration graduates are noticing is the increasing need to specialize their skills. For example, the grant writing industry is particular on whether or not you specialize in non-profit grants or government grants. If you want to find employment quickly, then specialize in a skill.
#10 Network
Healthcare administration graduates need to utilize the networking opportunities that they have in front of them. Stay in contact with past educators and classmates any way possible. Utilize the social networking elements of the Internet to find opportunities.
#11 Leadership Skills
It seems that more than ever, organizations are looking for healthcare administrators with strong leadership skills. Grads should look into taking leadership courses or try to take on internship positions that involve being the lead on a team.
#12 Continued Education
Many healthcare administration graduates are finding that an MHA is a good start, but they will need to continue their educational pursuits if they want to land a good job.
#13 Healthcare Consulting
One of the growing trends for new healthcare administration grads is to get involved with a healthcare consulting organization and then develop a plan of creating their own consulting firm in the future. With job security at an all-time low, many proactive graduates are already exploring alternatives.
#14 Health Networks
Instead of looking to apply to a single hospital or research facility, new grads will need to take a look at health networks. It looks like the days of a stand-alone hospital are gone and now everything is run by health networks. This is actually good news for grads because a network will offer more opportunity than an individual facility.
#15 Salary
The national average for healthcare administration graduate salaries is at around the $50,000 per year mark. Most grads are finding that the best paying jobs are with the federal and state government agencies.
Related: