<!- mfunc feat_school ->

Featured Programs:

Sponsored School(s)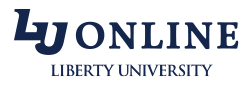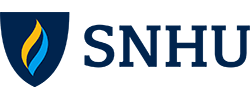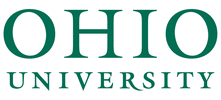 <!- /mfunc feat_school ->

The increasingly complex nature of even non-ICU healthcare environments these days demand management pros with the kind of expertise to ensure consistent, reliable oversight and cost-effective operations in hospitals and medical settings of all kinds.

In this field, only the best will do when it comes to educational preparation. The MBA in Healthcare Management has become the gold standard for preparing the next generation of healthcare managers and administrators and the go-to degree for aspiring managers and administrators with their sights set on climbing the professional ladder. Those who have achieved this advanced level degree are well-positioned for some of the most sought-after roles in healthcare management and some of the most impressive salaries in the healthcare field.

<!- mfunc search_btn -> <!- /mfunc search_btn ->

See also 9+ Online MBA Healthcare Management Degrees from Non-Profits

YouTube Special Feature

Naman Mahajan says he thinks Healthcare Administration professionals need an MBA and related experience – just like what you would find in the 7-month paid residency that is part of Baylor's MBA, which offers a Healthcare Administration specialization.

According to the Bureau of Labor Statistics, medical and health services managers earned an average annual salary of $100,980, as of May 2019. The top 10% in the field earned more than $189,000 during this time, which is the top end of the BLS reporting threshold: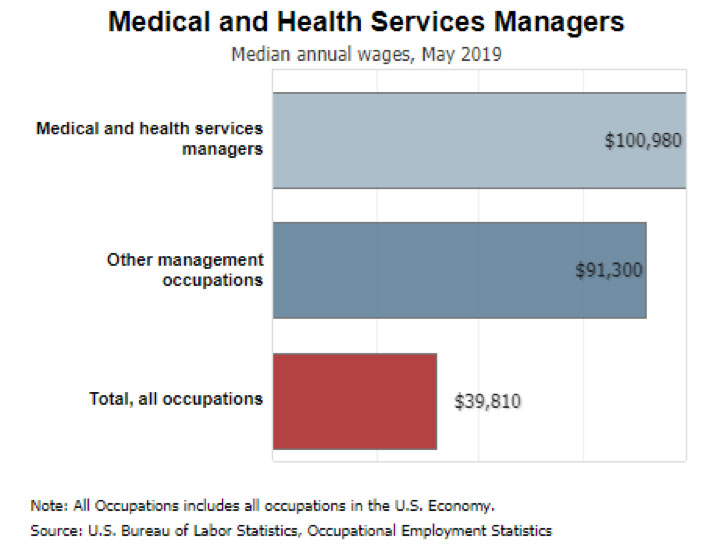 The data shown below pulls information from the top five current job postings and lines them up with salaries that fall under the BLS medical and health services manager classification:
Top MBA Healthcare Management Careers and Salaries
Earn an MBA in Healthcare Management and you'll set yourself up for success in the field where top salaries are part of the package:
#1 Hospital CEO
CEOs are positioned at the top rung of hospital executive teams. Hospital CEOs, who are among the highest paid professionals in the healthcare system, ensure that a hospital's vision and mission are always met through the implementation of policy and business strategy, along with efficient and effective operations.
Given their top position within an organization, it comes as no surprise that these healthcare administrative professionals earn salaries that top the charts. As of May 2019, the BLS reported an average salary of $184,460, for chief executives—ranking them as the top paid executives in healthcare and other settings.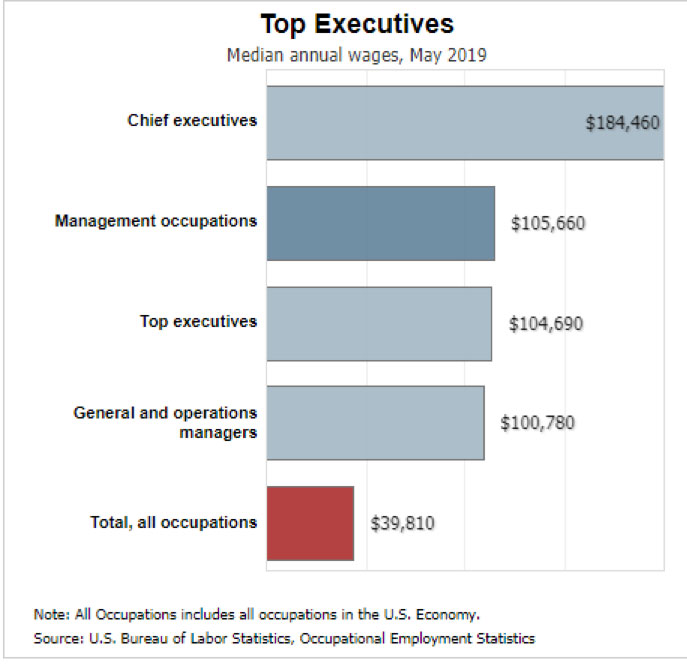 #2 Hospital Administrator
Hospital administrators are the behind-the-scenes pros who ensure that hospitals and other healthcare facilities operate as efficiently as possible. Whether they're lending their talents to nursing homes, hospitals, or outpatient clinics, hospital administrators oversee a wide range of tasks, including the implementation of new policies, the promotion and implementation of new technologies and innovations, and compliance with government guidelines.
2019 BLS stats show an average, annual salary of $110,430 for medical and health services managers in hospital settings, placing them among the highest paid in the industry:

#3 Hospital CFO
Hospital chief financial officers (CFOs) oversee a hospital or healthcare system's bottom line. Cost efficiency is the name of the game for these pros, who are tasked with managing all financial risks to the organization.
CFOs – which fall under the BLS classification for financial managers – earned an average, annual salary of $129,890 as of 2019, putting them among the top-paid professionals in healthcare: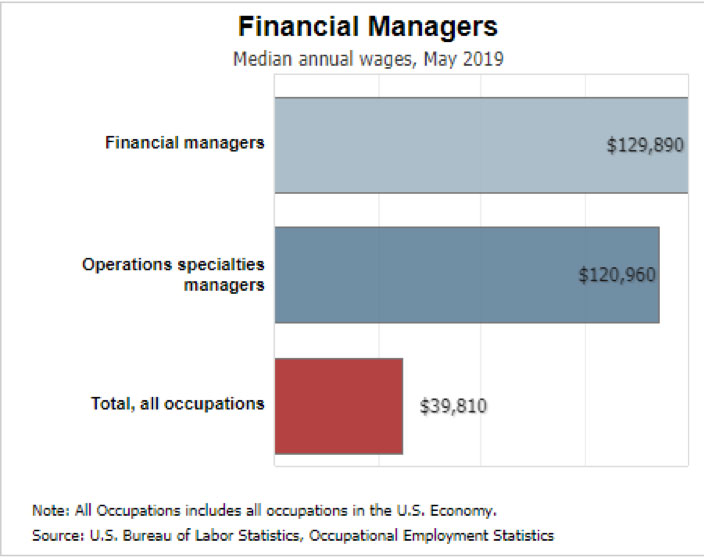 #4 Pharmaceutical Product Manager
Pharmaceutical product managers are the stars of the show in pharmaceutical sales. These pros analyze investments, review market data, and introduce promotions for new drugs and devices.
The BLS reports that marketing managers working in manufacturing industries, such as pharmaceutical manufacturing, earned an average annual salary of $138,950 as of 2019, making them one of the highest paid in this profession:

#5 Medical Practice Manager
Medical practice managers are tasked with many of the same duties as hospital administrators, just on a smaller scale. Their expertise lies in creating and maintaining budgets, hiring and managing staff, ensuring legal and HIPPA compliance, ordering supplies, and more.
Medical practice managers were among some of the highest paid medical health and services managers, earning an average, annual salary of $91,600 as of 2019.

#6 Health Informatics Manager
Health informatics managers ensure an efficient and effective flow of information and data in a healthcare setting. These pros are valued for their expertise in both computer hardware and software systems.

<!- mfunc search_btn -> <!- /mfunc search_btn ->

Health informatics managers – who fall under the broader BLS title of computer and information systems managers within companies and enterprises – earned an average salary of $148,290, according to 2019 BLS stats.

Salary and employment data compiled by the United States Department of Labor's Bureau of Labor Statistics in May of 2019. Figures represent accumulated data for all employment sectors in which medical and health services managers work. BLS salary data represents average and median earnings for the occupations listed and includes workers at all levels of education and experience. This data does not represent starting salaries. 
All salary and employment data accessed June 2020.